Get Started with French Cooking is our flagship course that teaches the classic techniques you need to cook French food with the confidence of a chef. This is a 'hands on' course, with easy to follow cooking tutorials that break down the theory behind cooking as well as getting you practicing what you learn, just like in a culinary school.
A simple way to learn French cooking at home.

French cooking is much loved, and yet so feared, especially for newcomers in the kitchen.
Yes, French cuisine can be complicated, made up of many layered techniques, but Stephane has a knack for making it easy to understand. In this course he guides you through the basics of French cuisine, one technique at a time, to build your confidence in the kitchen.
Fast track your cooking journey.

Get Started with French Cooking targets the most relevant cooking skills for home cooking so that you can learn the basics in a fraction of the time it takes to learn the same techniques in a culinary school.

What you get...


12 Units covering the most relevant techniques to cook French food.


More than 70 video lessons.


Cooking demonstrations filmed in a home kitchen for an authentic home cooking experience with practice recipes to apply what you learn.


A catalogue of more than 30 authentic recipes.


4 Recipe Challenges to apply the layered techniques you learn.


A Certificate of Completion upon submitting 2 Recipe Challenge evaluations.


Learning materials
 

to deepen your knowledge of French cooking.


Access to the French Cooking Academy Club - our awesome community to support your cooking journey.


Flexibilty. Learn anywhere, anytime and on any device.


14-day money-back guarantee. Try it out and get a full refund if it's not right for you.


Get our dessert course for free. This course includes the essential French dessert module at no additional cost.

Learn how to cook, not just follow recipes.
Have you ever tried to follow a recipe and encountered an unfamiliar technique that stumps you? Often, this leads to delays, frustration, or even culinary disasters. Learning the classic French techniques that underpin many cuisines will not only equip you with the skills to handle most recipes but also the confidence to add your personal touch to dishes.

To be a better cook, you need to master the basics first.
Every great chef has trodden the path of learning the fundamental techniques of French cuisine. 'Get Started with French Cooking' is founded on the same timeless skills imparted in French culinary schools to help you become a more skilled cook in your own kitchen.
Ongoing student Support.

Along the way, you will be supported by your instructor, Stephane, and fellow students via our exclusive French Cooking Academy Club to get the feedback and motivation you need to succeed in your French cooking journey.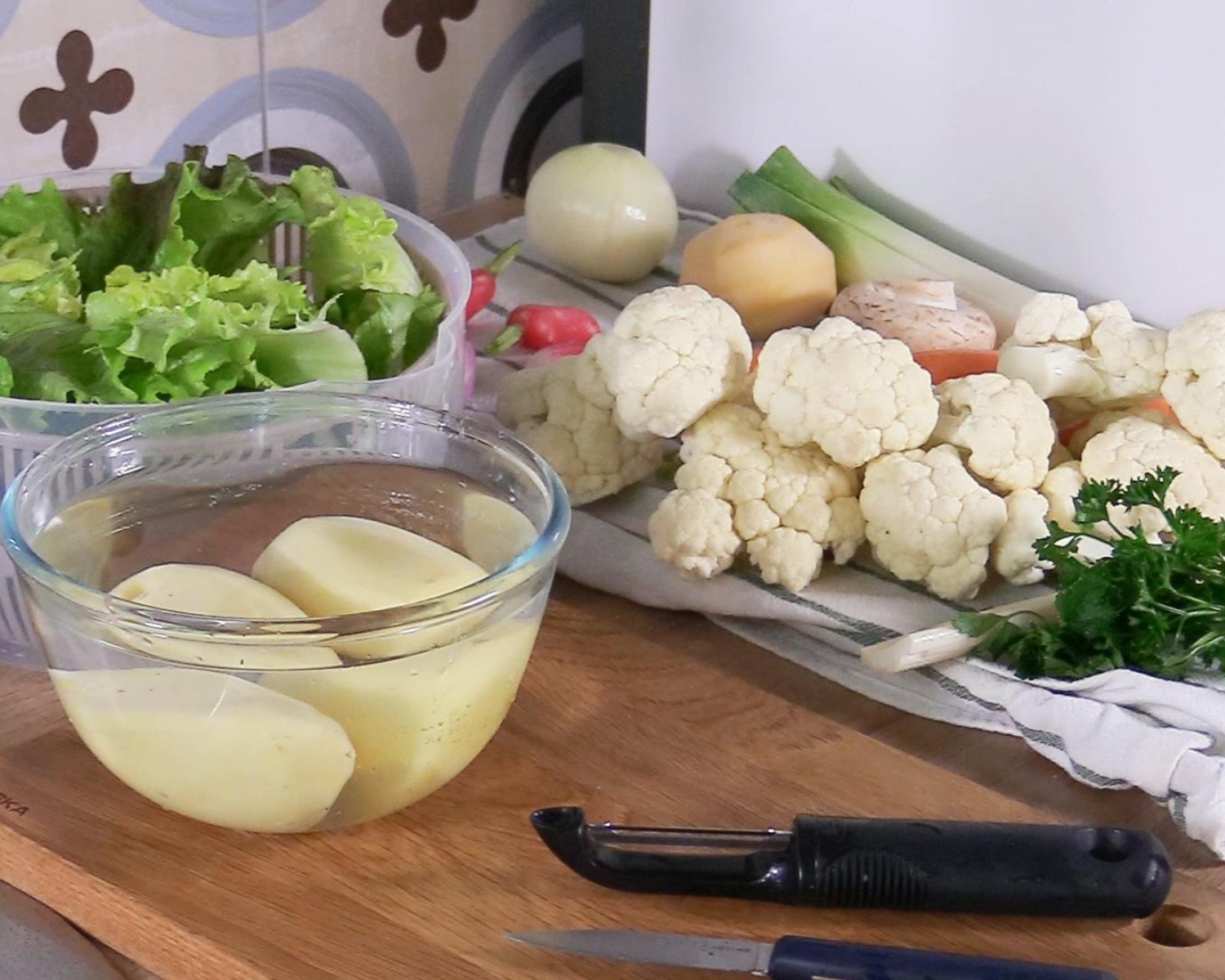 Mise en place

Learn how to use the important principle of mise en place to improve efficiency and results in the kitchen.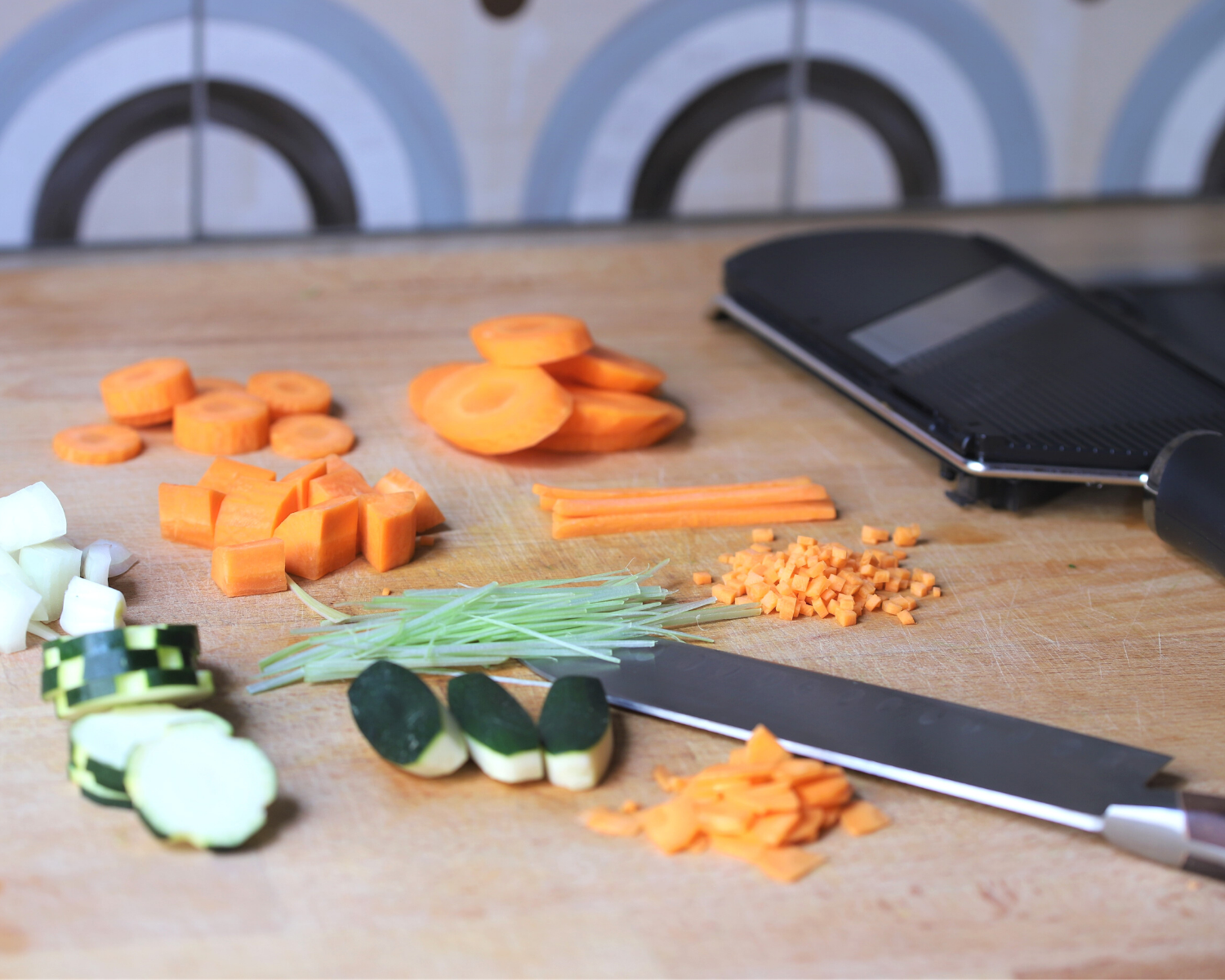 Knife skills & cuts

Learn the range of knife skills a chef must know to start cutting and slicing vegetables like a pro.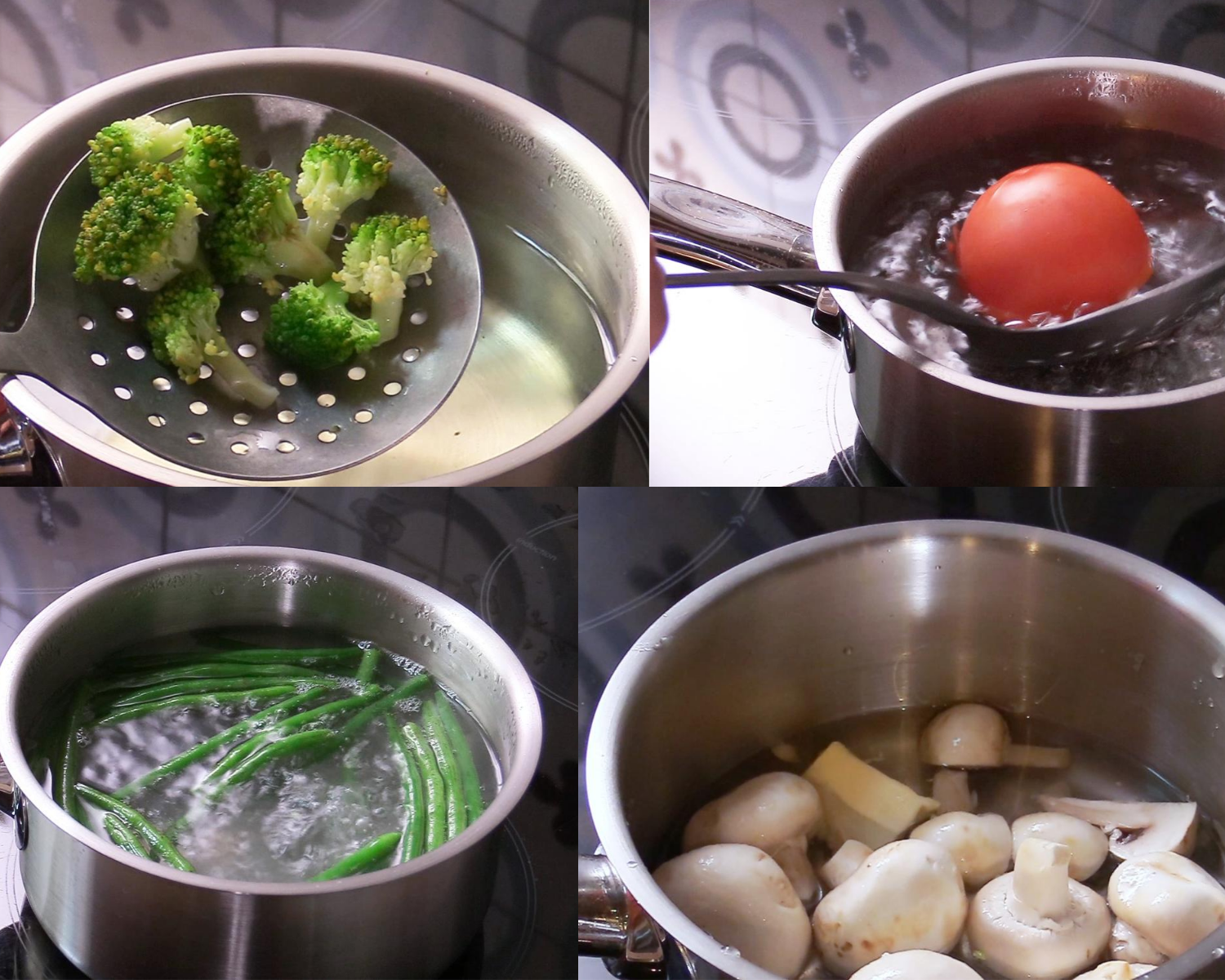 Vegetables techniques

Learn vegetable cooking techniques like monder, glazing, caramelizing, white cooking and more.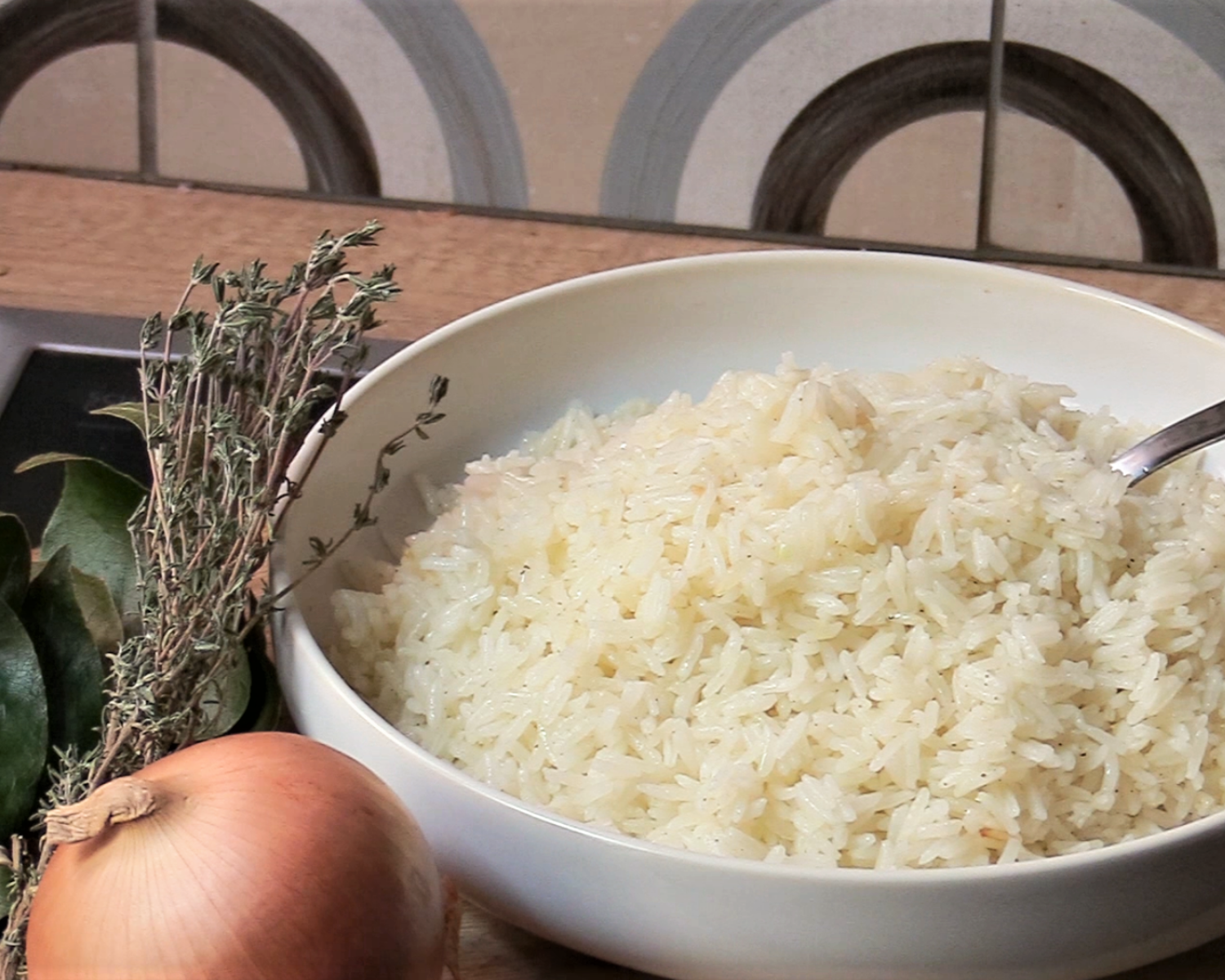 Rice cooking 101

Learn how to make the perfect rice every time to accompany your French dishes.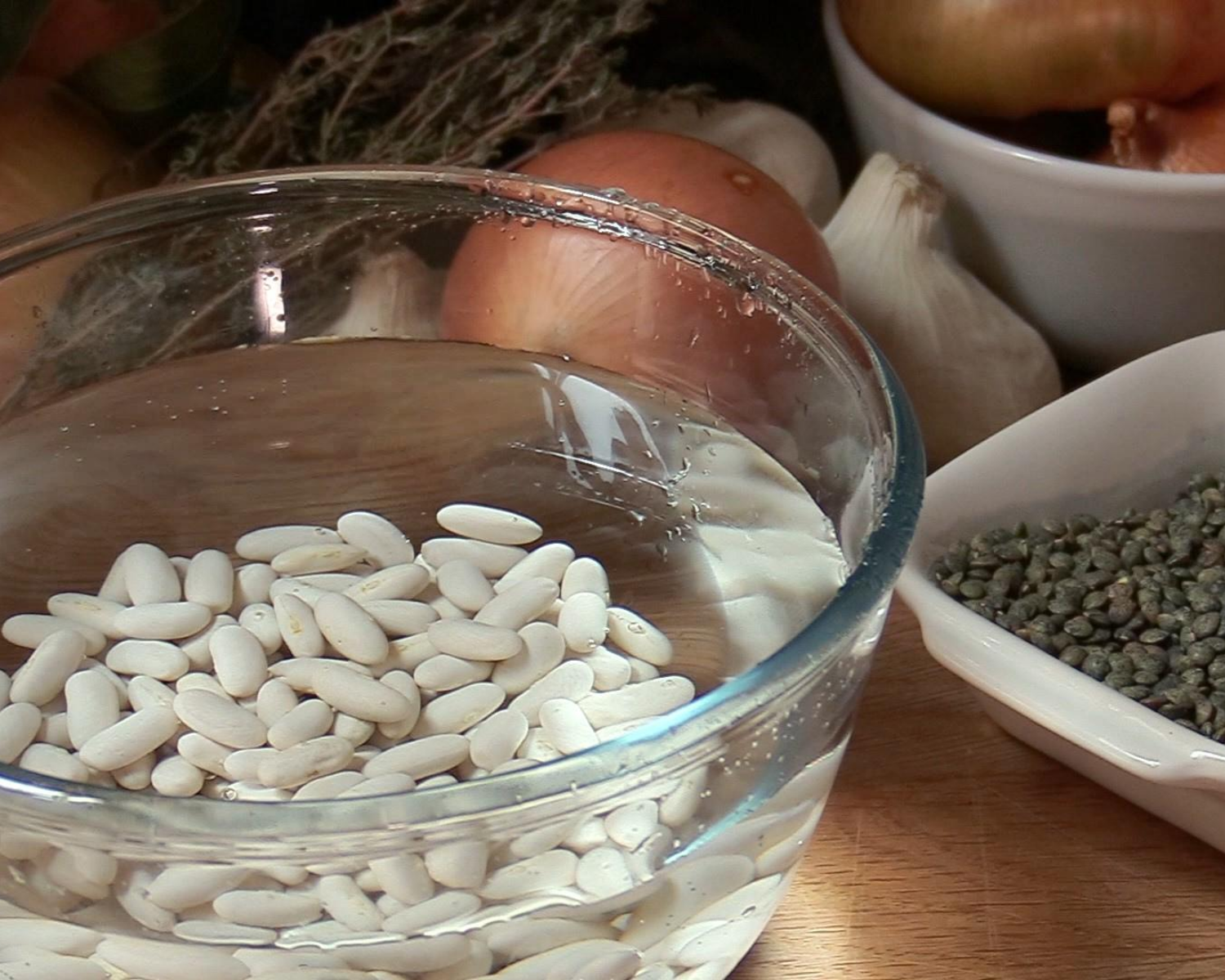 Cook legumes and pulses

Learn how to re-hydrate and cook a range of legumes and pulses.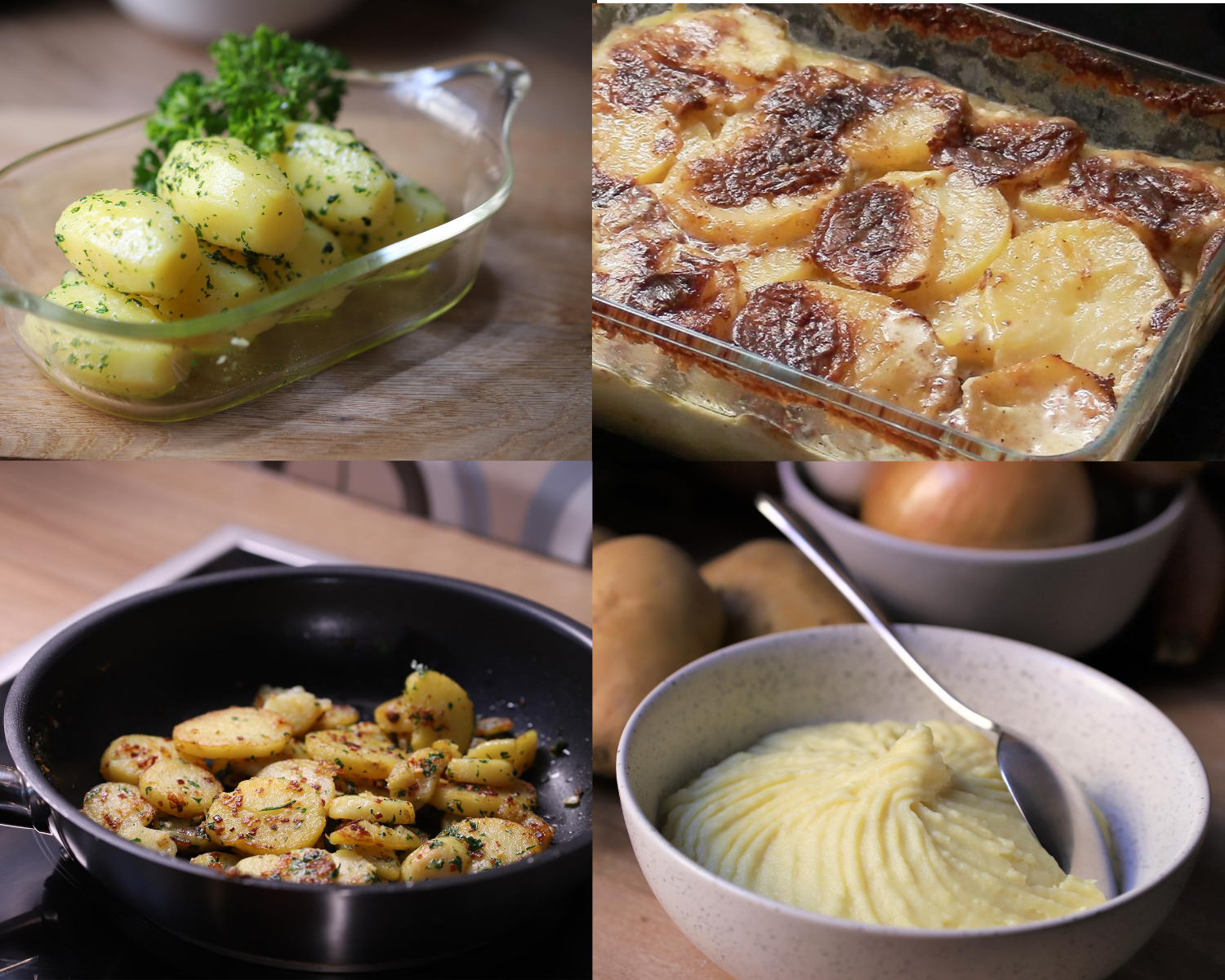 Master potato dishes

Discover the techniques to transform the humble potato into a range of classic French side dishes.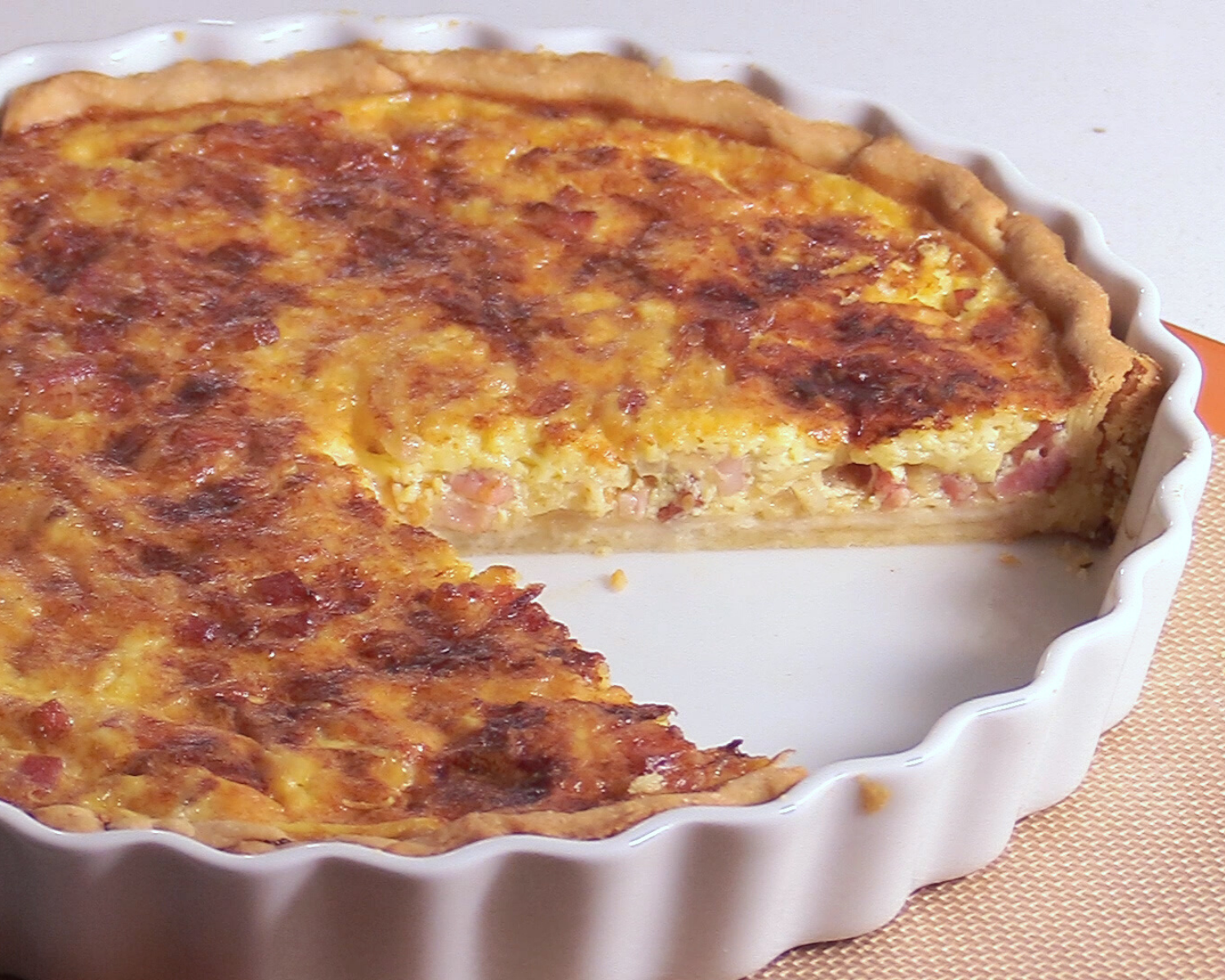 The perfect quiche

Discover quiche making techniques to make beautiful quiches every time.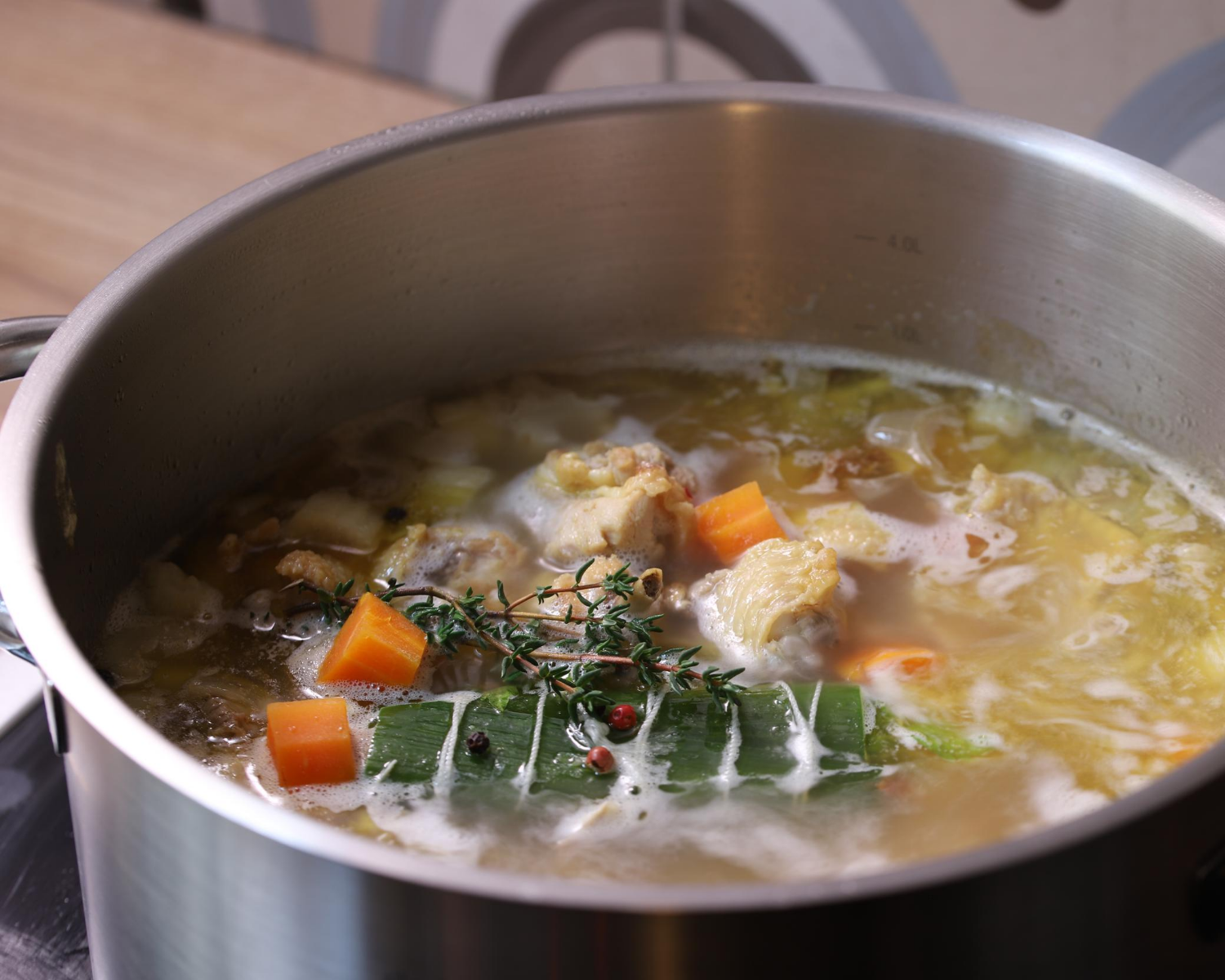 Master stocks

Master the basic range of cooking stocks including meat-based, fish and vegetable.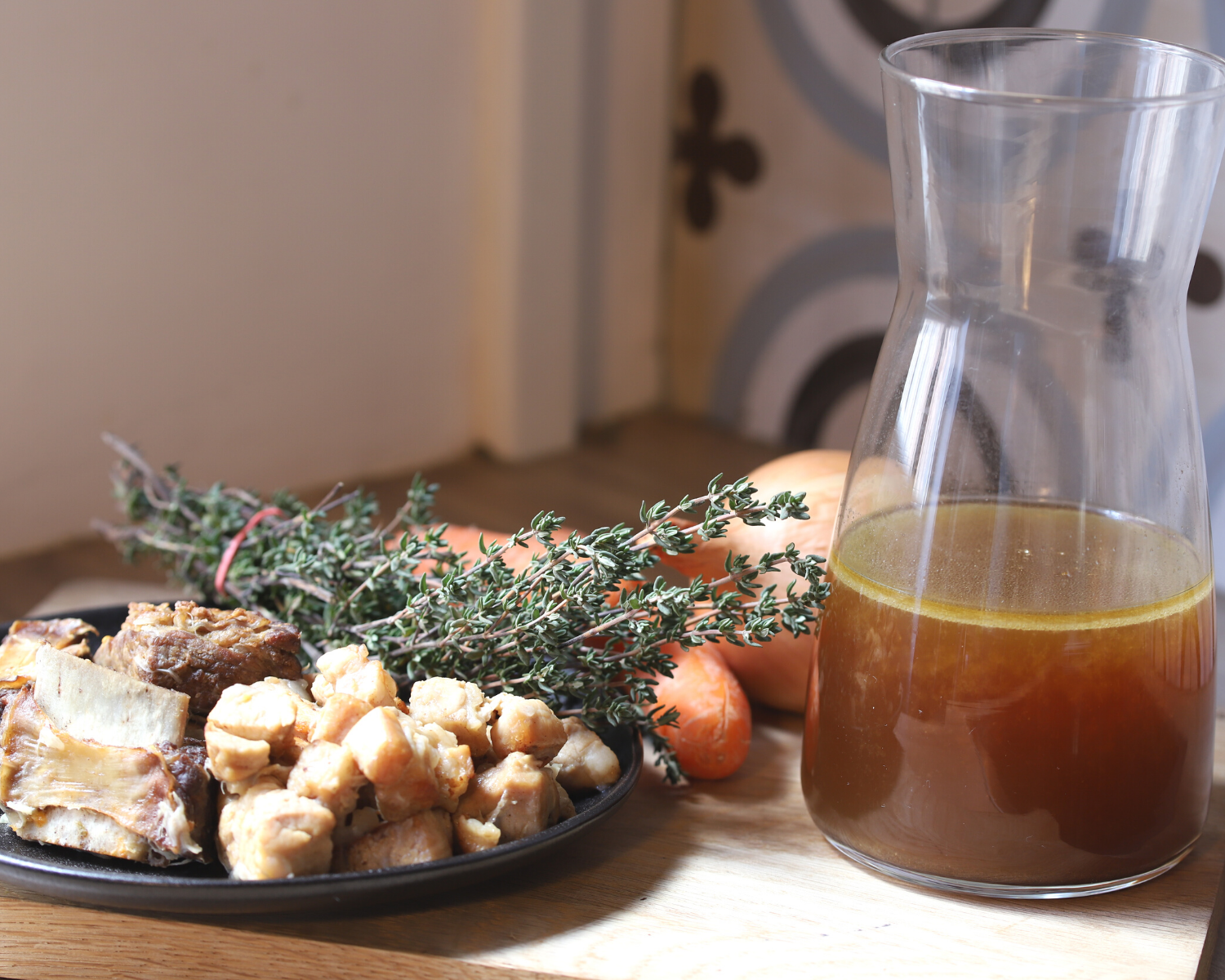 Make demi-glace & glace

Once you master the classic stocks you can start exploring more advanced techniques like demi-glace and glace.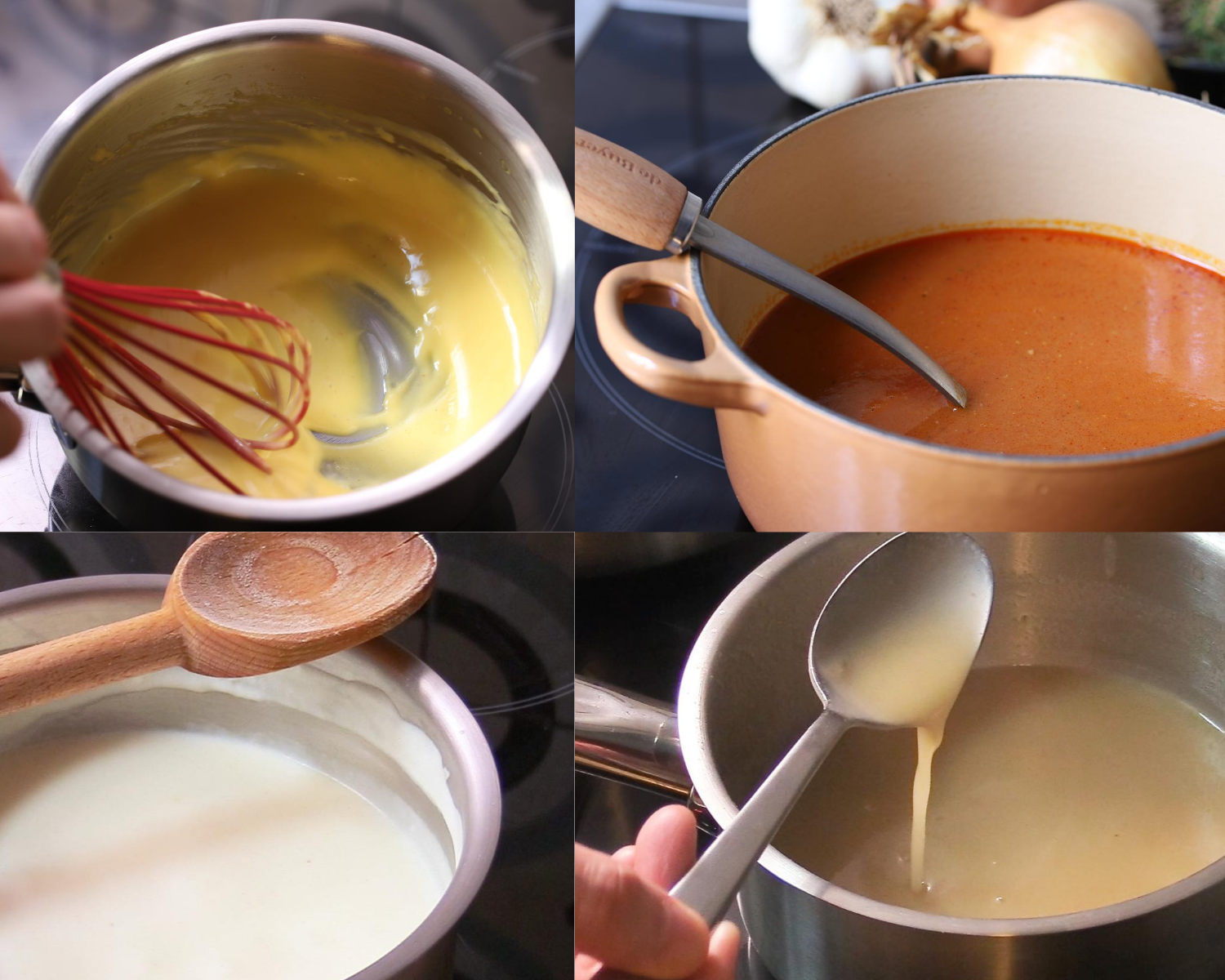 The mother sauces

Learn to make the 5 classic French mother sauces.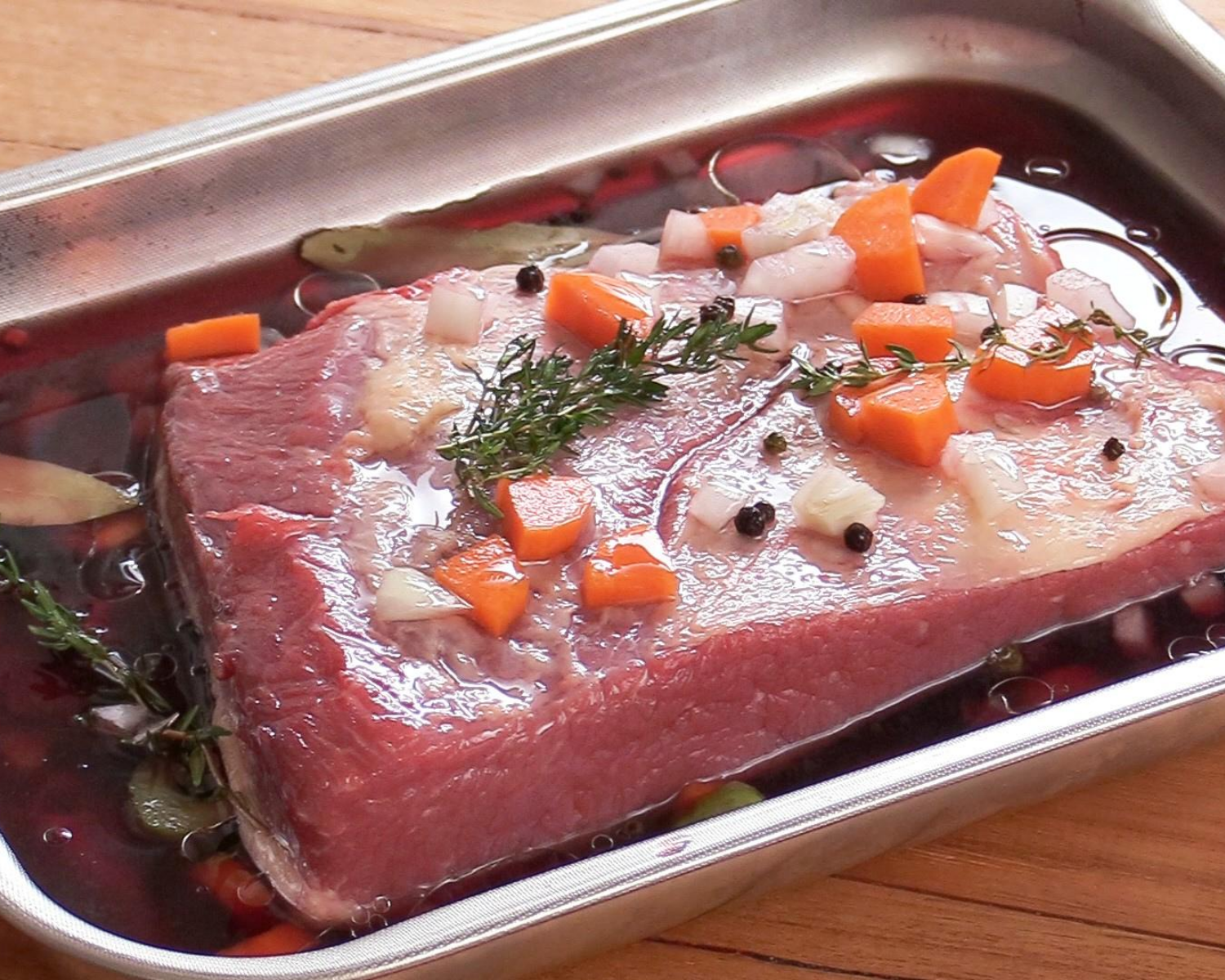 Meat cooking techniques

Learn the fundamental techniques to cook meat that guarantee perfect results.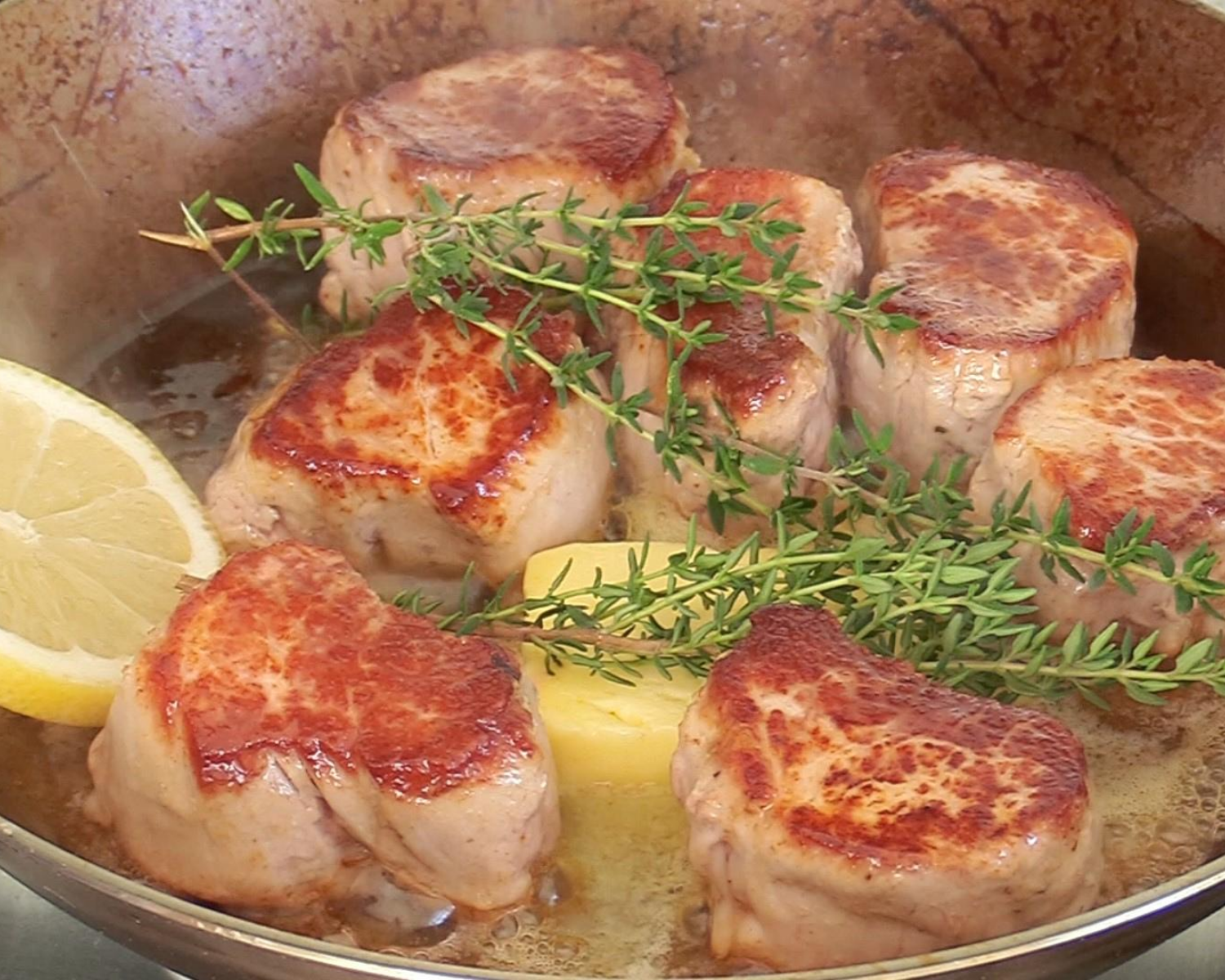 How to saute

Learn the French cooking technique of sautéing.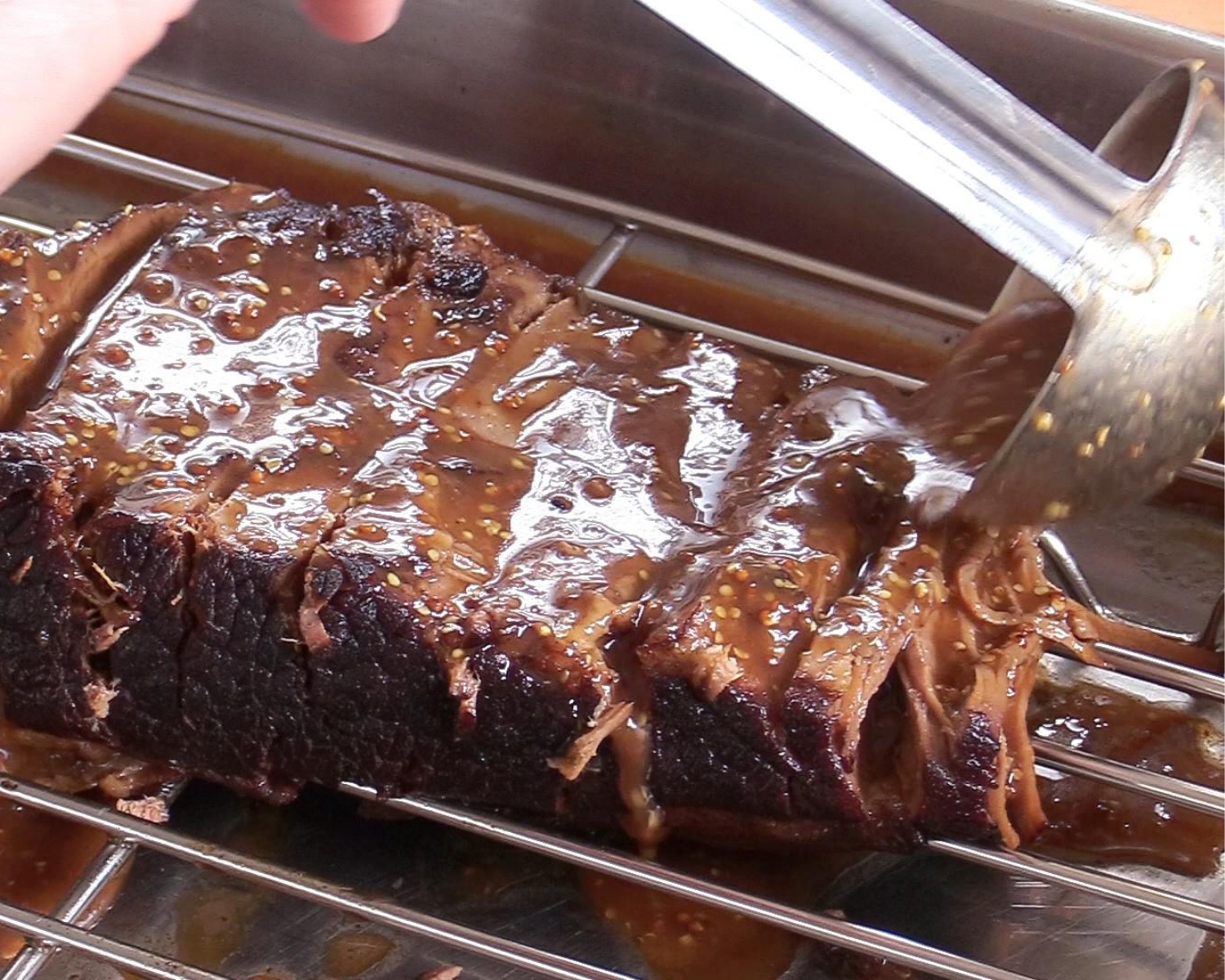 How to braise

Master the classic French braising technique.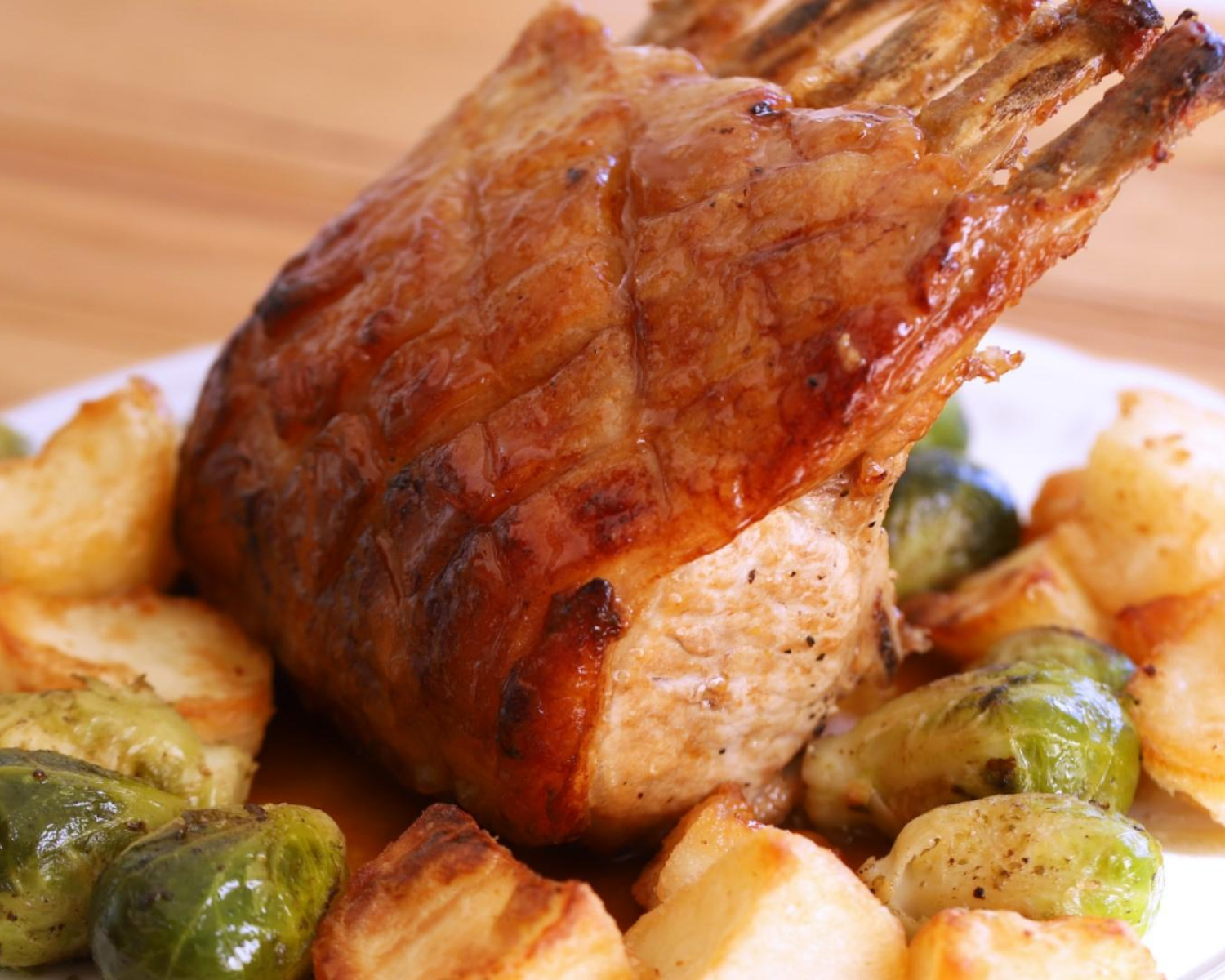 How to pot roast

Learn how to roast and pot roast the French way.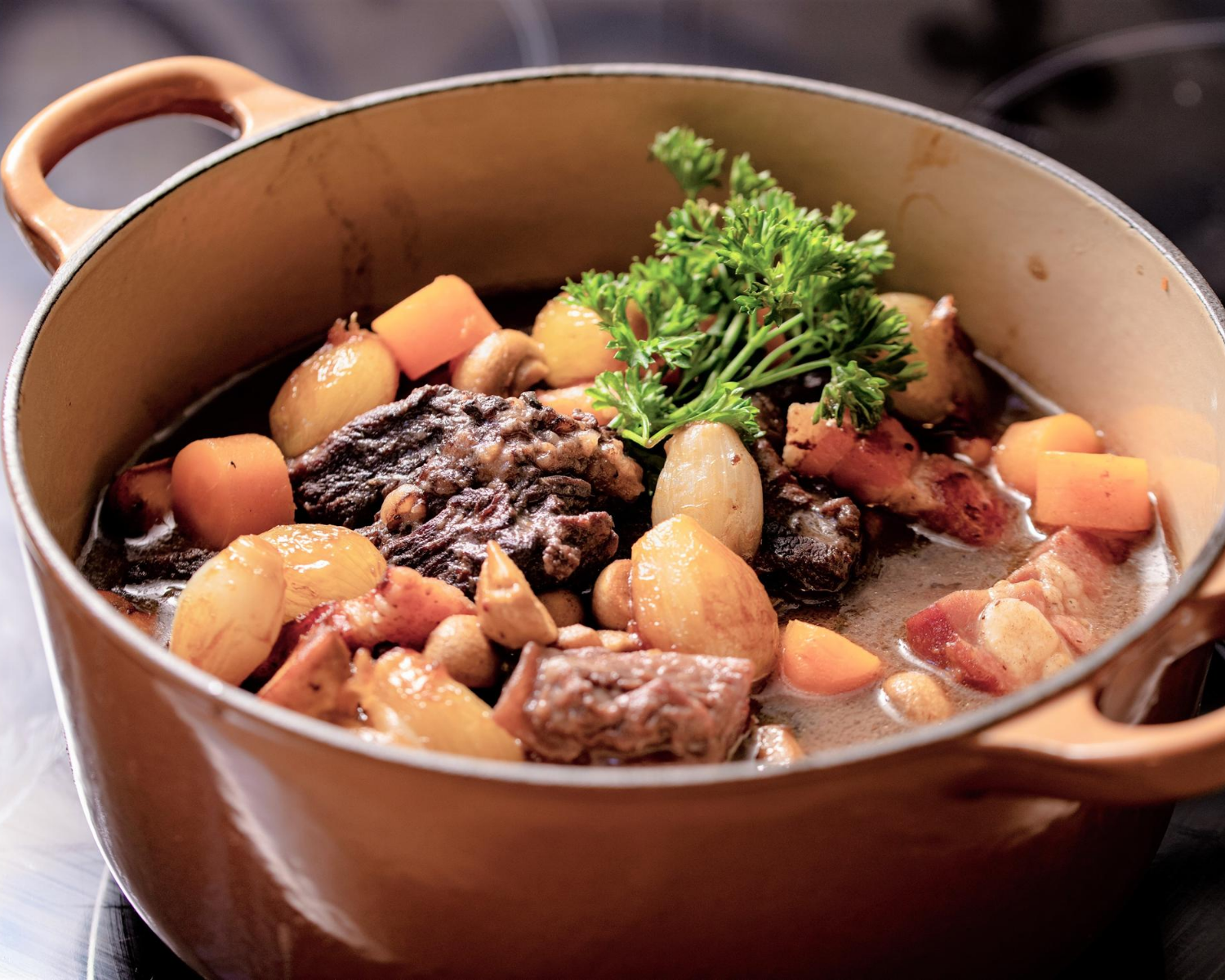 Learn the secrets to make brown and white ragouts.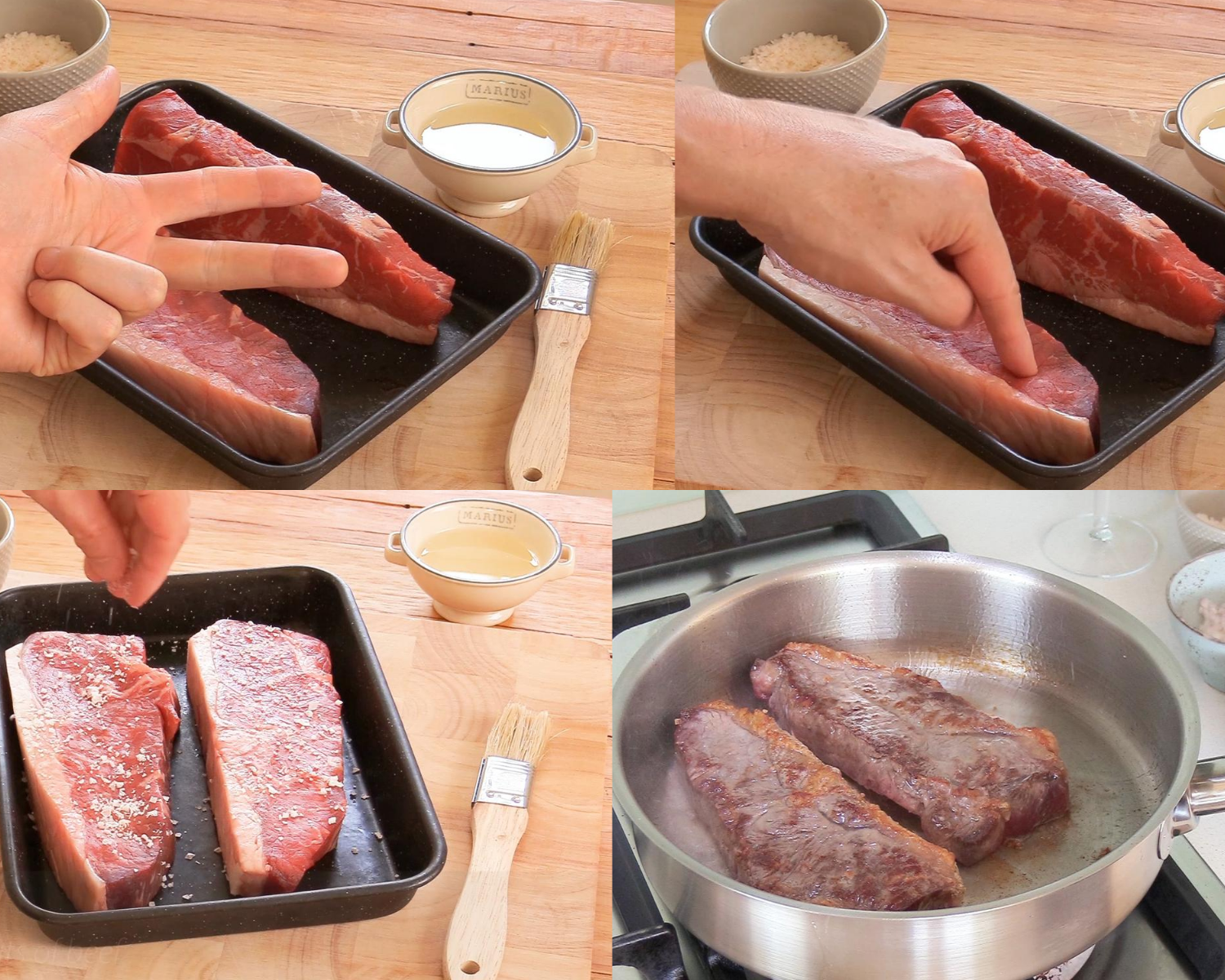 Cook the perfect steak

Learn how to cook steaks perfectly to achieve the right level of doneness.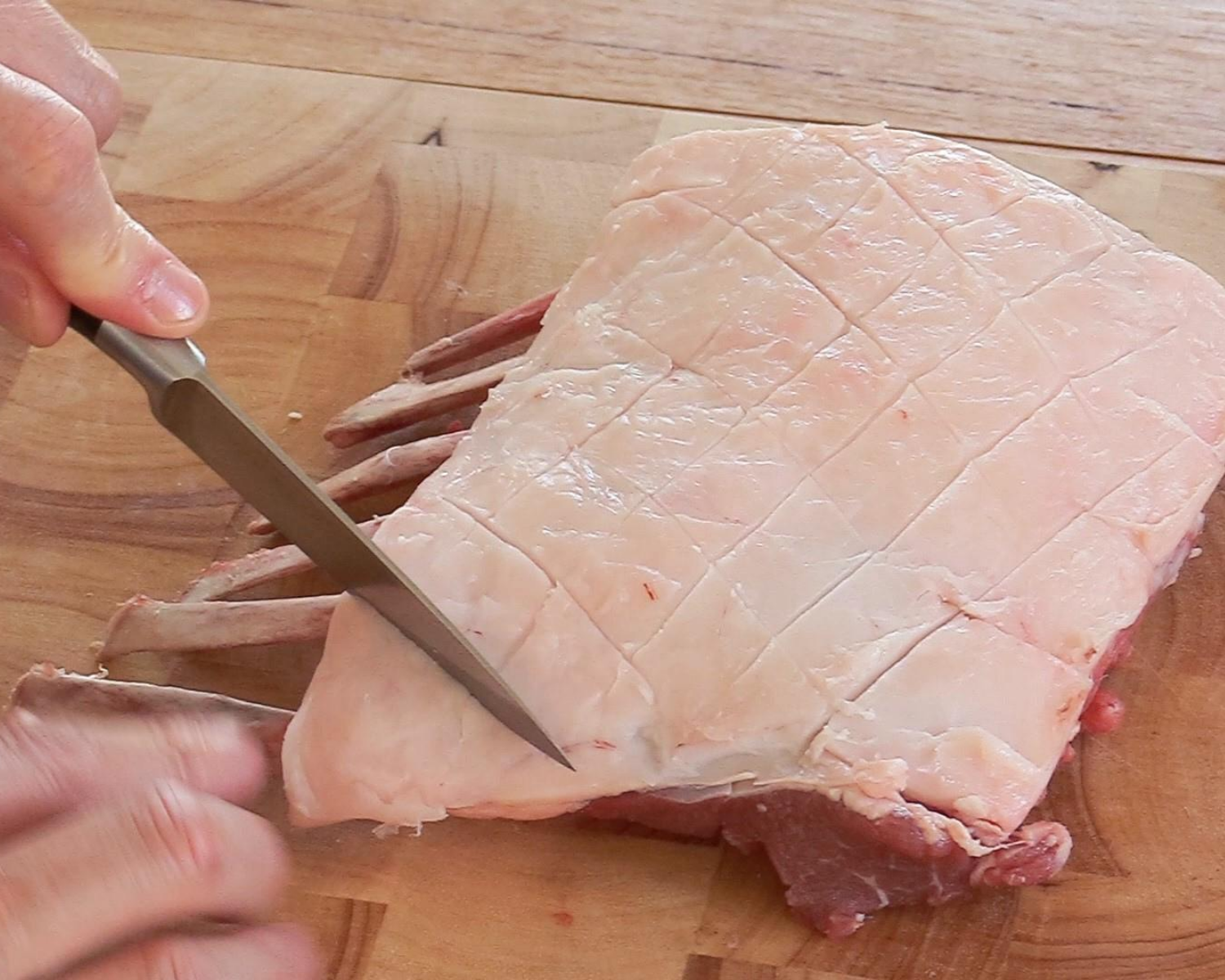 Preparing meat for cooking

Discover how you need to prepare different meats for different cooking methods.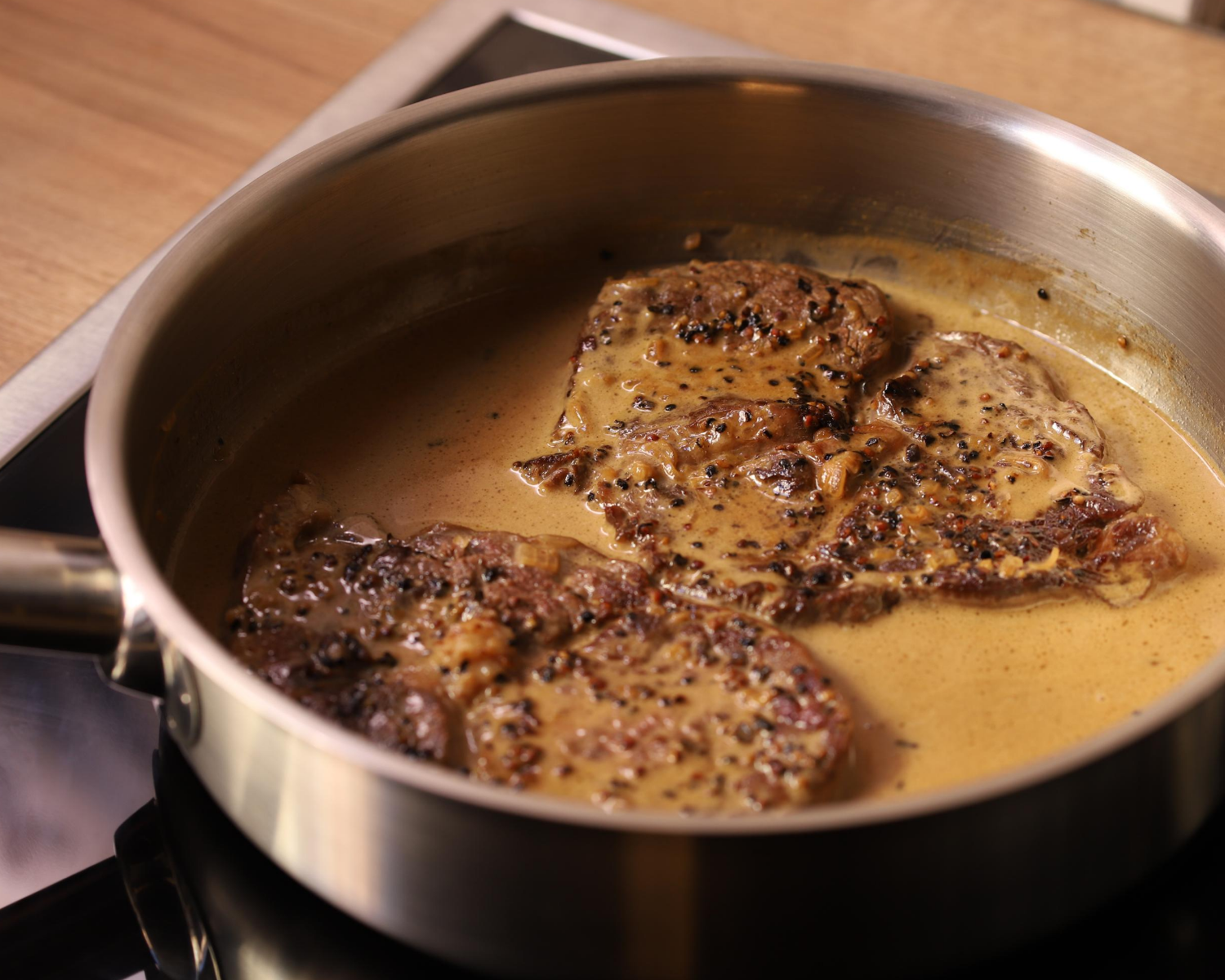 Instant pan sauces

Understand how you can create delicious pan sauces from different cooking methods.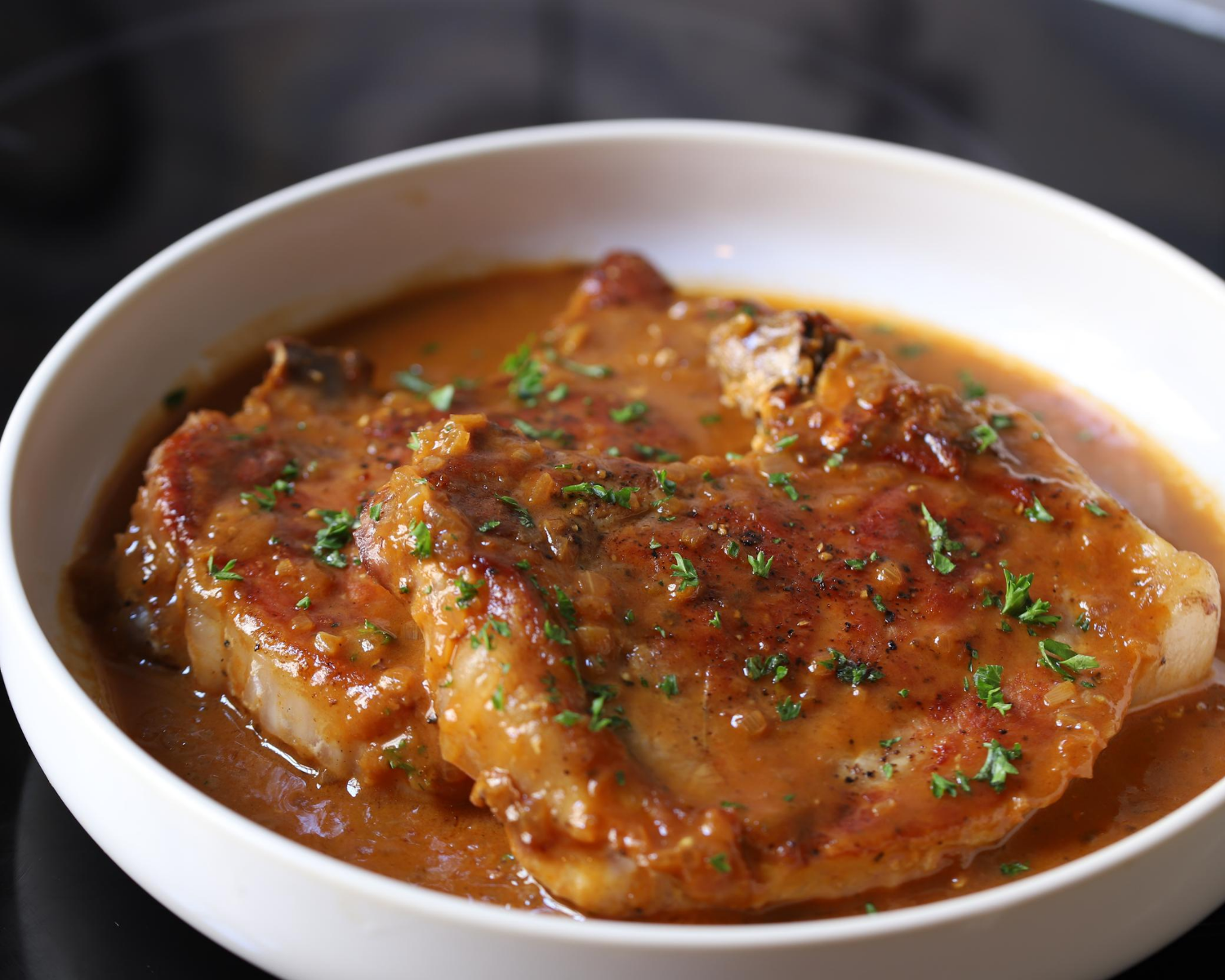 Pork chops sauce Robert


Take the challenge and make delicious pork cutlets served with an instant pan sauce.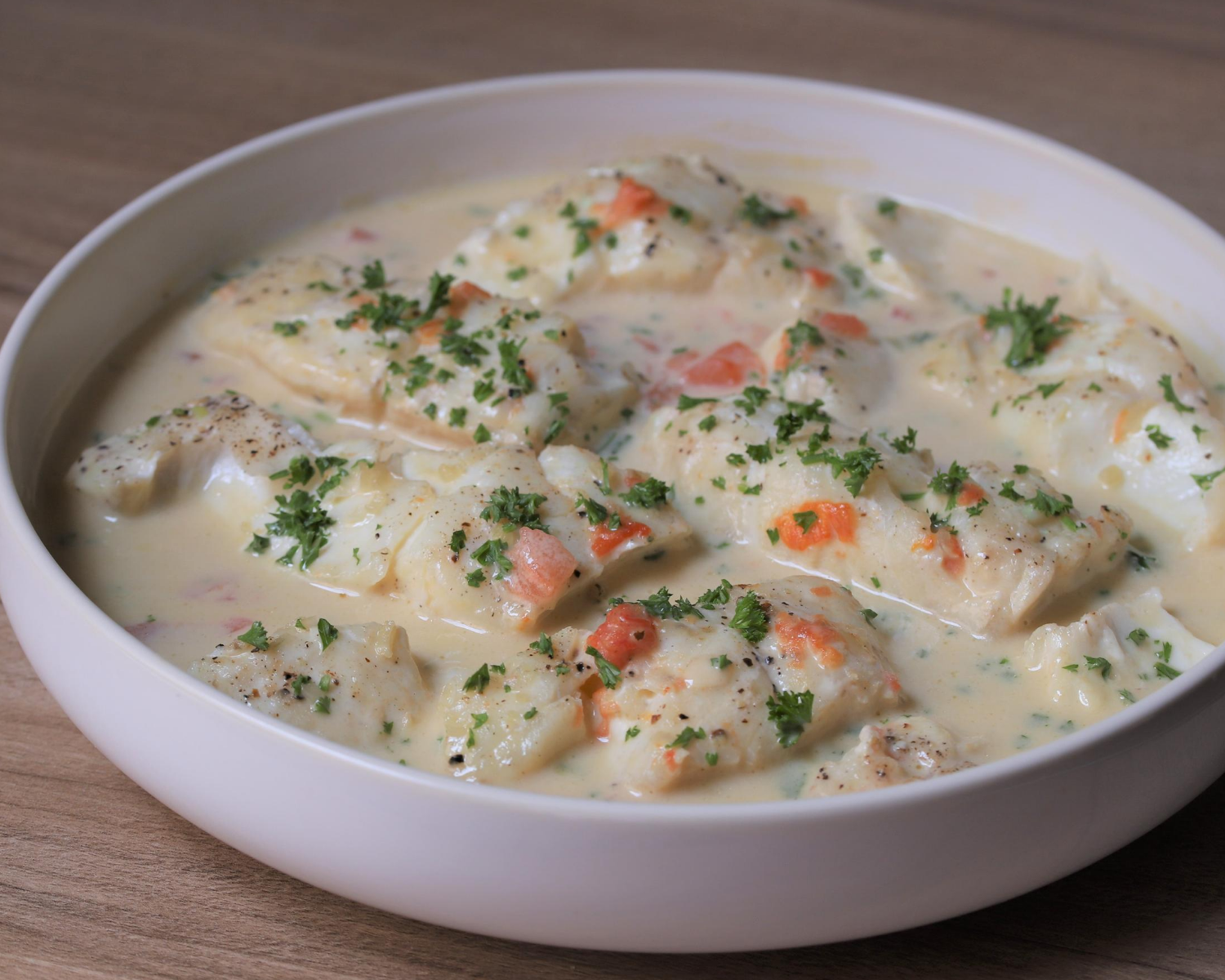 Fish filet sauce Dugléré

Take the challenge and create this dish of poached fish filets served with a short sauce.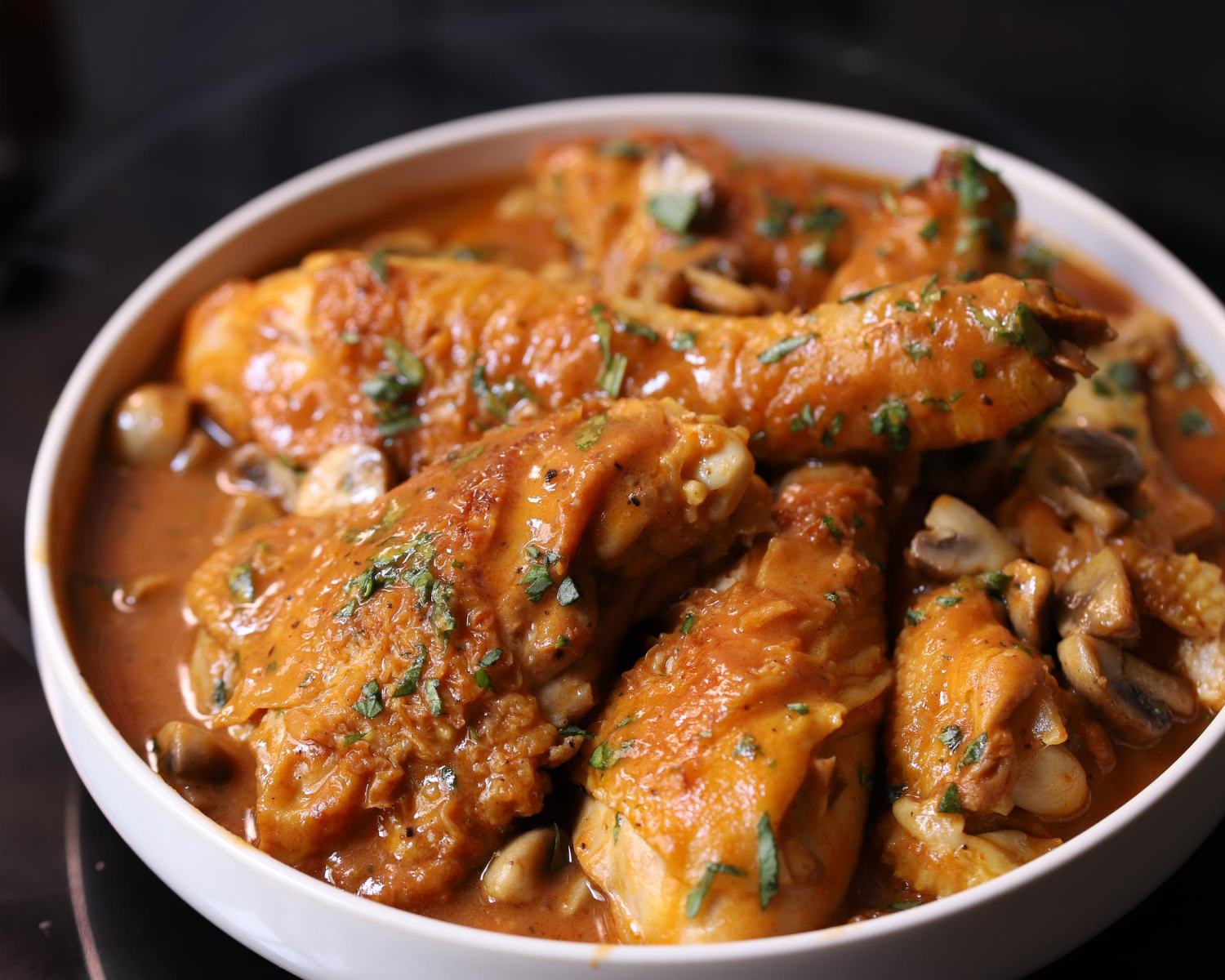 Take the challenge and cook the crowd pleasing hunter's chicken.
No strings attached.
If you change your mind you have 14 days to obtain a full refund. No questions asked.
"I have been able to make a number of dishes I'd never tried before with this course. The food is incredibly delicious and the chef makes it clear step by step how to do it (some things are more challenging than others, but if you follow instructions, it's all doable!). Also it's improved my overall cooking with some of the techniques. LOVE this course."
Nonny Mouse



"Before purchasing the course, I followed the YouTube channel and thoroughly enjoyed cooking along with the recipes. Now with the course he goes much more in depth and teaches in a manner that anybody can follow. It's well worth the money and is perfect for anybody that just wants a new hobby or has thought they should learn to cook but didn't know where to start."
Richard Ramos
"Stephane is wonderful! I have never been able to cook but now I can cook French dishes that amaze and please my family and guests!! And Stephane is so entertaining as he very efficiently teaches French cooking skills! I recommend his classes to everyone!"
Kefsey Pisan

Who is this course for?

This course is for you if you're a beginner who loves good food and wants to learn the basics of French cuisine fast. Or perhaps you're learning how to cook and want to improve your skills and achieve greater success with your cooking results.

Who is this course
NOT
suitable for?
This course focuses on the basics of French cooking and is not aimed at experienced home cooks or professional chefs.

Can't I just learn this stuff from watching YouTube?
It's true that you can learn a lot from Youtube and it's a great resource for recipes. But if you're serious about learning how to cook YouTube has its limitations. This course goes more in depth than YouTube and teaches a complete range of culinary techniques in sequence and structured so you're learning like a professional would. The course also has heaps of cooking exercises, recipes and resources to help guide your transformation from just following recipes to knowing how to cook.
How much time commitment is required for the course?
This course is completely self-paced. You decide when you start and when you finish. There are 12 Units with a combination of theory lessons, cooking demonstrations and recipe challenges videos with around 10 hours of watch time in total. Plus there are cooking exercises, recipe practice and learning materials so the time to complete will vary from person to person.
How long do I have access to the course?
If you purchase this course individually, you have lifetime access to all course materials and videos. You'll always have access to any updates made to the course at no additional cost.


Do I need certain equipment to complete the course?
Yes. To get the most out of this cooking course, you will need access to some basic kitchen tools, cookware and a functional kitchen. What you will need to cook along with Stephane is covered off in the course material.
Is there a money-back guarantee?
You bet! If you find that the course is not for you within 14 days of purchase, just let us know and we'll provide a full refund.
Why is the course in US Dollars?
The reason we work with US Dollars is because the USD is the most widely-accepted currency around the world. But don't worry. You can purchase the course with any debit or credit card, no matter where you live, and your bank will automatically convert the USD to your local currency at the market rate.