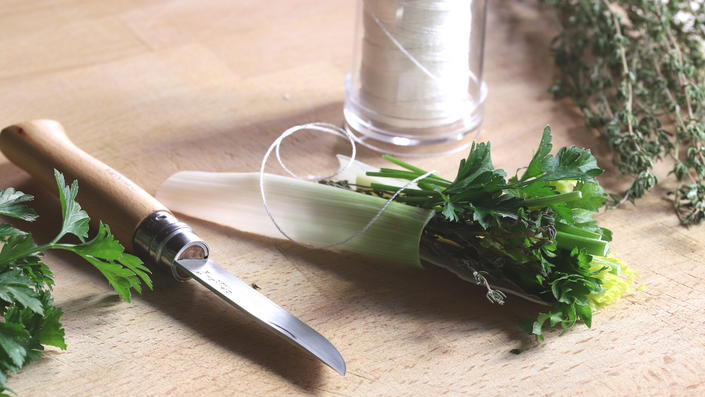 Get Started with French Cooking
Master French cooking techniques, cook authentic French recipes and become the chef in your kitchen
Watch Promo
Enroll in Course
A French cooking course for beginners
Get Started with French Cooking is an online course for people new to French cooking. It will teach you the core French cooking techniques you need to cook delicious French dishes. Get started with French cooking is a series of practical "hands-on" cooking classes that teaches the theory behind cooking techniques as well as getting you practicing what you learn, just like you would in a French culinary school.
---
What will you learn?

THIS COURSE WILL TAKE YOU FROM BEGINNER TO FEELING CONFIDENT IN YOUR ABILITY TO MAKE DELICIOUS FRENCH DISHES
Get organised in your kitchen. Learn about the essential ingredients and the best knives and cookware that will enhance your end results.
Learn how to apply the important culinary method of mise en place to your home cooking. These simple principles will make your life easier in the kitchen and improve your cooking results.
Master the techniques used in French cuisine to optimize the flavors, colors and textures of fresh vegetables and legumes.
Learn the secrets to cooking the perfect rice and legumes.
Discover how to make the most common crowd pleasing potato dishes: gratin, sauté and the world's best pomme puree.
Learn the skills to make a delicious range of quiches.
Learn to make the 5 great stocks of French cuisine which will transform your dishes.
Tackle emulsions, roux and the 5 mother sauces so indispensable in French cuisine. Also learn how to master the sauté deglace technique.
Learn the theory behind 3 classic cooking methods to create delicious pan sauces and increase variety in cooking meats, fish and poultry.
Master the basics of poaching and steaming
Learn to sauté meats and the technique sautée déglacer, an instant pan sauce to serve along with your meat.
Learn how to roast the French way and appreciate the art of pot roasting.
Explore the world of ragouts and braised meats: two similar techniques that yield deliciously different results.
At the end of the course you will be put to the test with 4 recipe challenges complete with a side dish to get you applying the techniques you've learnt and

receive your

Certificate of Completion.
Want to have a free sample of the course?
Click here to learn how to cook waxy potaotes
Does this sound familiar?

You're following a recipe when suddenly an ingredient or a technique turns up that you don't know. You start to panic. 'I could try to wing it', you think to yourself as you search frantically on google, 'or perhaps call a friend for advice'. Often the result is delay, frustration and sometimes even culinary disaster. This scenario is not uncommon if you haven't been properly taught the basics of French cooking.
---
To become a better cook, master the basics first
French culinary techniques are the bedrock of cooking in the Western World. Time has proven the validity and success of these techniques and they're used in restaurant kitchens across the world. These same techniques will make you a more skillful and confident cook in your own kitchen.
---
Keeping things simple
Don't believe the myth that making great French food is only for the professionals or that it should be intimidating. Get Started with French Cooking is different than the rest. No celebrity chef egos, rushed explanations or daggy music. Just techniques that are precise, easy to follow and relevant for you, the home cook.
What you'll get:
12 Units covering the most relevant skills and techniques to cook French food
More than 60 video lessons in total
Includes Cooking and Technical Demonstrations filmed in a home kitchen to give you an authentic home cooking experience

Practice recipes to apply what you learn as you go along
A catalogue of authentic French recipes

4 Recipe Challenges to apply the layered techniques you learn
A Certificate of Completion upon submitting 2 Recipe Challenge evaluations

Bonus Video Lessons to expand your culinary toolkit

Learning materials to deepen your knowledge of French cooking
Access to the private French Cooking Academy Facebook group; a space to share tips, recipes and cooking advice

Flexible. Learn anywhere, anytime and on any device

30-day money-back guarantee. Try it out and get a full refund if it's not right for you
An Evergreen Course which means you'll always get access to new videos and material added over time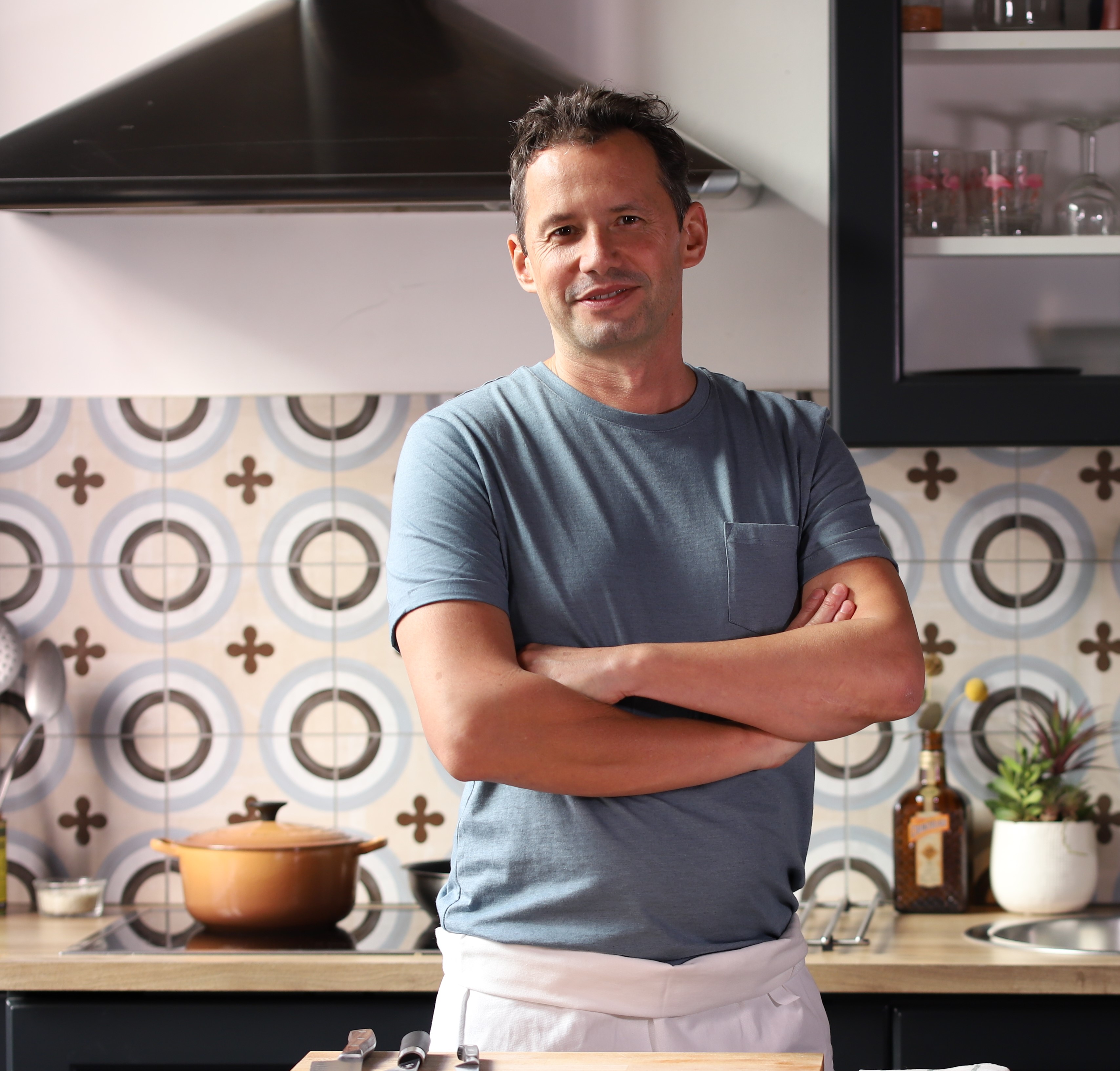 Here's what current students have to say:
"My cooking has improved greatly. I know how to cook basic food, how to choose it, which temperatures to use. I now understand it more. I am no longer stuck to the traditional recipes that I followed. I started getting new ideas, and now I can even create something of my own!'.
Olga Vnukova
"With millions of cooking instruction options online, French Cooking Academy stands in a class by themselves. Stephane brings an authenticity to his video instructions and his passion for techniques are always present. He also does a great job of building new videos, using previously taught techniques to ensure consistent development. If you want entertaining, engaged, proper, and impressive French cooking techniques, you found the right teacher!"
Chris W, Boca Raton, Florida

"I guess that what I am saying is that this is a wonderful course. The French Cooking Academy is allowing me to come up with my own ideas based on what I am learning. I still have far to go, but what a voyage."
Robert Di Lalla, USA
Your Instructor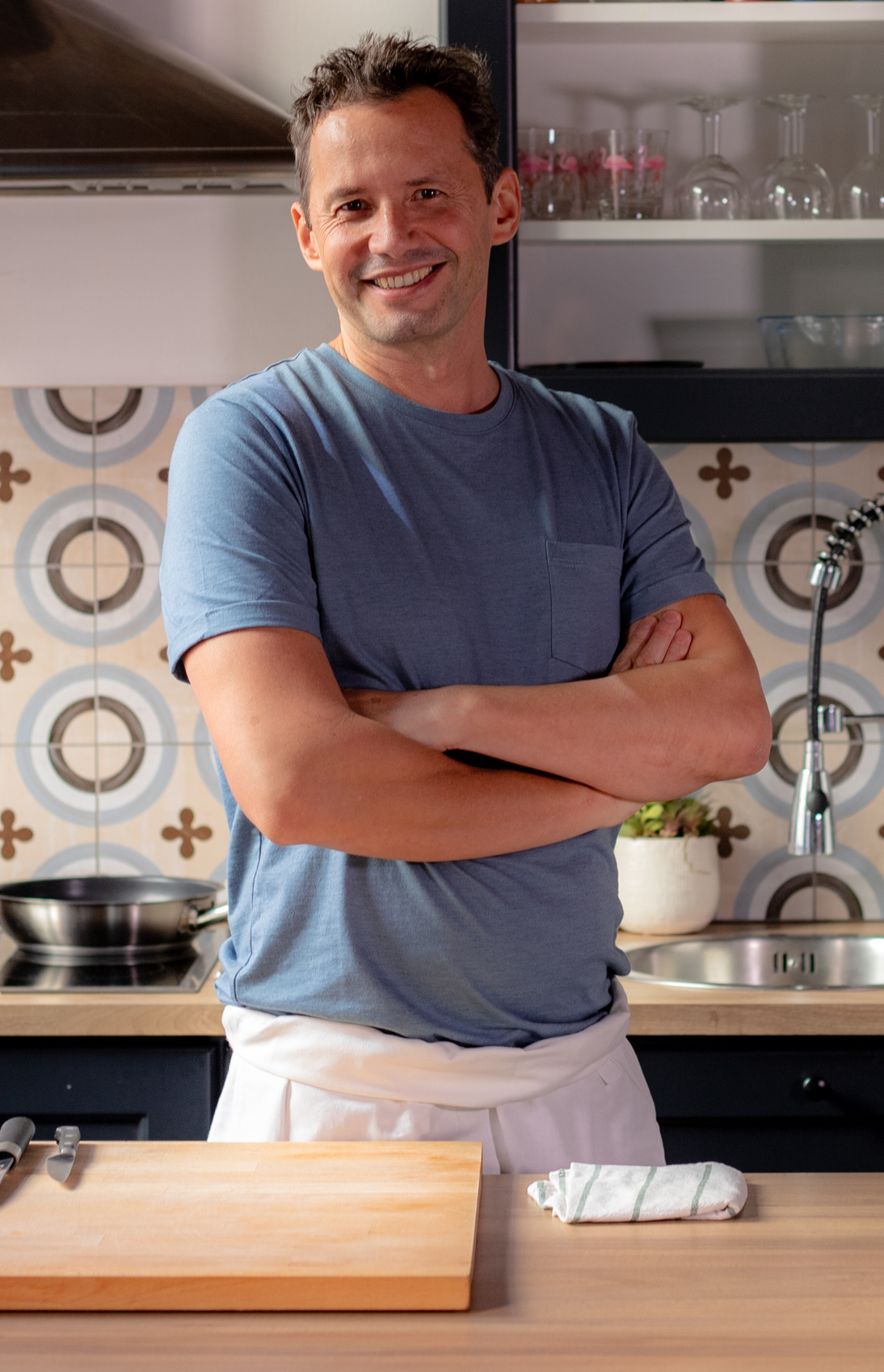 Hi, I'm Stephane. Self-taught cook, You Tube creator and a passionate French culinary instructor.
Five years ago, I set out to master the art of French cooking from my kitchen. I have spent thousands of hours studying and practicing the techniques taught in the most exclusive culinary schools in France and from classics like Escoffier's Guide Culinaire.

My mission is to make learning to cook French cuisine accessible and easy for the home cook. My unique approach to teaching the secrets of French cuisine has accumulated over 20 million views online and forged a community of cooking enthusiasts across the globe.

'Good food is the foundation of genuine happiness'
- Auguste Escoffier
Frequently Asked Questions
Who is this course for?
This course is for you if you're a beginner who loves good food and wants to learn the basics of French cuisine fast or you're learning how to cook and want to build your skills and confidence to tackle French dishes.
Who is this course NOT for?
This course is not aimed at experienced home cooks as it focuses on the basics of French cooking. This course is also not for professionals working in the restaurant industry and will not provide a professional accreditation. If you're looking for a course that provides official accreditation this isn't the course for you.
How this course different from other cooking courses out there?
When I set out to design Getting Started with French Cooking I wanted to set it apart from other cooking courses. You will learn the essential cooking techniques taught in culinary schools in France but adapted to the modern home cook. And you will achieve this in a fraction of the time you would spend in a culinary school (and for the fraction of the price!). But you'll feel like you're in a school with me as your cooking instructor, and this is also what makes this course different. It's both instructional and practical, including essential theory, cooking demonstration videos and practical exercises and recipes to get you applying what you've learnt.
Can't I just learn this stuff from watching You Tube?
It's true that you can learn a lot from Youtube and it's a good resource for recipes. But if you're serious about learning how to cook, You Tube has its limitations. What you don't get from You Tube is the complete range of culinary techniques taught in sequence and structured so you're learning like a professional would. Getting Started with French Cooking goes deeper than what you can access on YouTube. It breaks French cuisine down into a logical sequence of techniques and variations rather than presenting a bunch of recipes and clips recommended by google algorithms. The course also has heaps of cooking exercises, recipes and resources to help guide your transformation from merely following recipes to knowing how to cook. These materials are exclusive to the French Cooking Academy.
How much time commitment is required for the course?
It's possible to complete the course in as little as 10 days if you've got the time. But this course is completely self-paced. You decide when you start and when you finish. There are 12 units with a combination of theory lessons, cooking demonstrations and recipe challenges videos. There's around 8 hours of watch time in total. Plus, there's cooking exercises, recipes and learning materials although the time commitment with these will vary from person to person.
How long do I have access to the course?
After enrolling, you have lifetime access to all course materials and videos. This is designed to be an evergreen course and will be updated from time to time. You'll always have access to any updates made to the course at no additional cost.
Do I need certain equipment to complete the course?
Yes. To get the most out of this cooking course, you will need access to some basic kitchen tools, cookware and a functional kitchen. This is covered off in the course material.
Is there a money-back guarantee?
You bet! If you find that the course is not for you within 30 days of purchase, just let me know and I'll provide a full refund.
Why is the course in US Dollars?
The reason we work with US Dollars is because the USD is the most widely-accepted currency around the world. But don't worry. You can purchase the course with any debit or credit card, no matter where you live, and your bank will automatically convert the USD to your local currency at the market rate.
How does the payment plan work?
You can enroll in the full course today for just $60 (followed by 2 more monthly payments of $59). Please note that the 30 day money back guarantee is only valid for the 30 days from the purchase date of the course and is not available for the period of your payment plan.
'The discovery of a new dish confers more happiness on humanity, than the discovery of a new star.'
- Brillat Savarin
Course Curriculum
YOUR FRENCH CULINARY JOURNEY STARTS HERE
Available in days
days after you enroll
FRENCH CUISINE: A FASCINATING HISTORY
Available in days
days after you enroll
CHAPTER 1: MASTERING THE BASICS
Available in days
days after you enroll